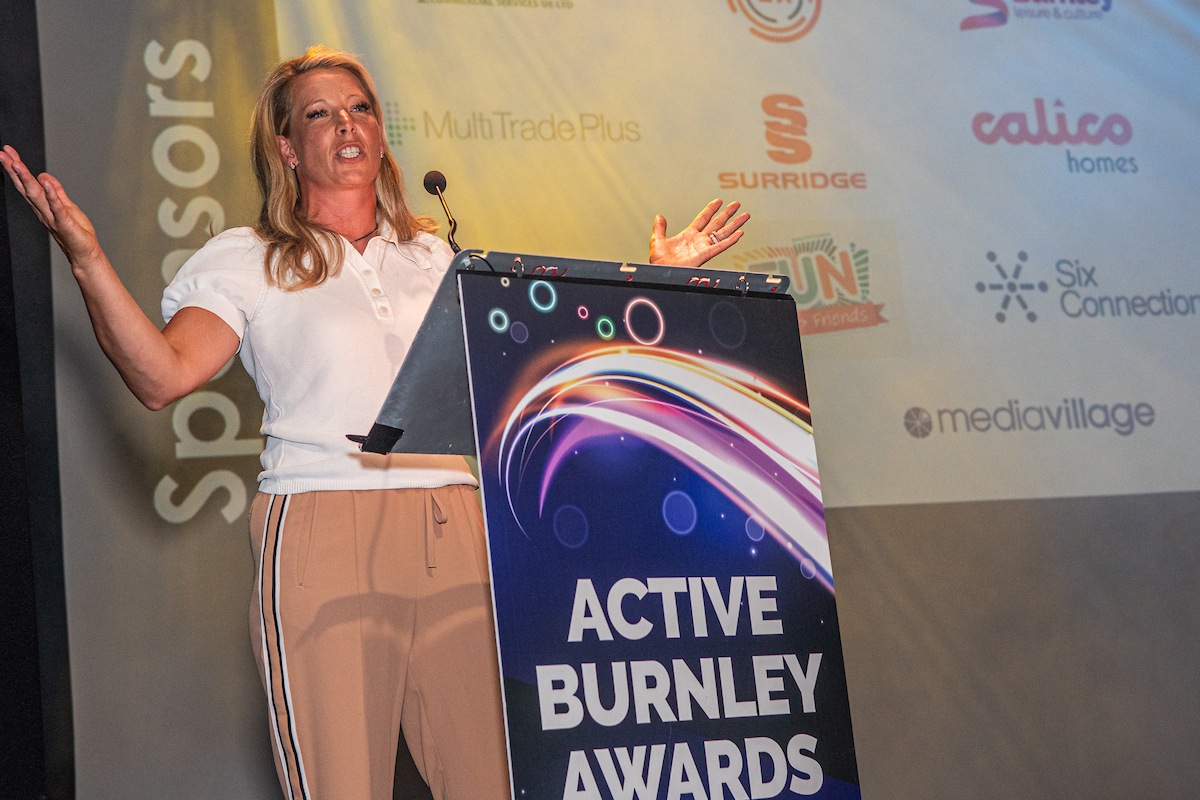 Lifetime achievement accolade is climax of Active Burnley Awards
A referee's lifetime devotion to local football, a thriving kickboxing club and a school with platinum sporting credentials were among the winners at our Active Burnley Awards, organised and run by Burnley Leisure & Culture.
The annual celebration pays tribute to those who show dedication at a range of sporting, health, and wellbeing activities at all levels, and those who work tirelessly to support individuals or community clubs, for the love of the sport or their community.
Twelve winners were announced at the glittering ceremony at Burnley Mechanics hosted by former Lionesses goalkeeper turned TV pundit, Rachel Brown-Finnis.
Burnley-born Rachel won 82 caps for England in a stellar career that saw her collect a Women's FA Cup winners' medal, play Women's Super League (WSL) soccer for Liverpool Women and Everton Ladies, and represent GB at the London 2012 Olympics.
This is what Rachel had to say about hosting her hometown awards…
All the Burnley winners will now go forward to the Active Lancashire Awards, where they will pit their achievements against those chosen from similar award schemes throughout the county. The Awards, which saw three Burnley winners named best in Lancashire last year, will be held at Ewood Park, Blackburn, on Friday 17th November.
Lifetime Achievement Award – Stuart Nicolson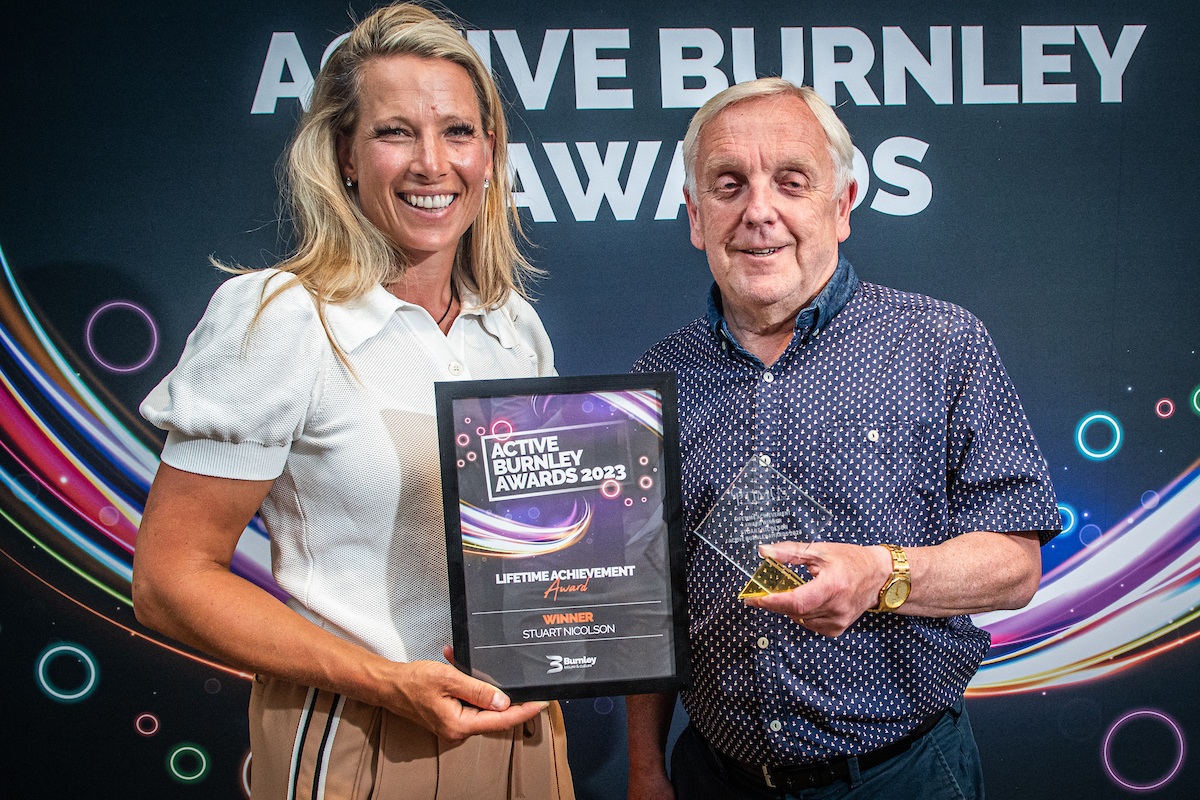 The climax of the evening was the Lifetime Achievement Award for someone who has shown a commitment of at least 20 years to sport and active lifestyles, won by football referee Stuart, who has been involved in the game at all levels for more than 60 years.
Over the decades, he progressed his career until officiating at Football League Youth Lions Under-21's matches from 1985 until recently. His claim to fame includes refereeing a Lancashire Youth League game – Manchester United vs Bury – when he made it into the tabloid press for cautioning Sir Alex Ferguson for dissent!
Stuart has refereed in the Lancashire Amateur League for over 40 years, and in 2018 was appointed LAL president. He has also been president of the Burnley Referees' Association, manager of Brunlea Juniors and the fourth official at Burnley FC's Turf Moor ground many times and is well known for being an avid Burnley FC fan.
The judges said: "Stuart has been instrumental in coaching and training new referees for future generations, and as he reaches a ripe old age and his career will be coming to an end in the near future, this is the perfect year to recognise his dedication to refereeing and football over the last 61 years."
Stuart shared his reaction with us after receiving the award and told us a little bit more about his run in with Sir Alex…
Club of the Year – Dragons Kickboxing Club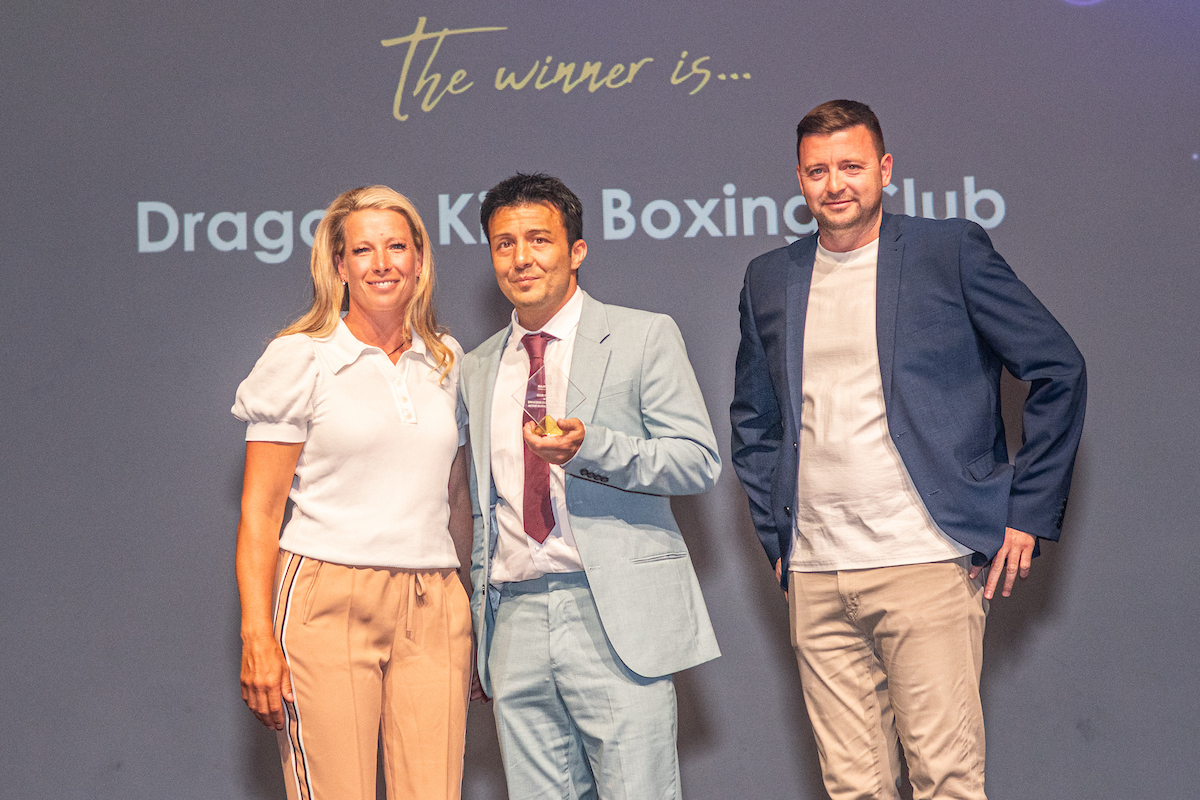 Dragons Kickboxing Club celebrates its 10th anniversary this year. Open seven-days-a-week, it provides up to 26 hours of classes every week, serving children as young as three years up to adults aged 50-plus.
The club has inspired lots of young people working at the heart of the most deprived area of Burnley. It prides itself on being totally inclusive, inspiring young people to work hard, learn vital life skills, discipline, and respect for other people. It strives to reduce many barriers to participation including costs and always tries to find a way to support young people to attend who struggle to pay for their classes.
We caught up with Steven after his award – little did he know there was another one to follow…
Volunteer of the Year – Awais Javid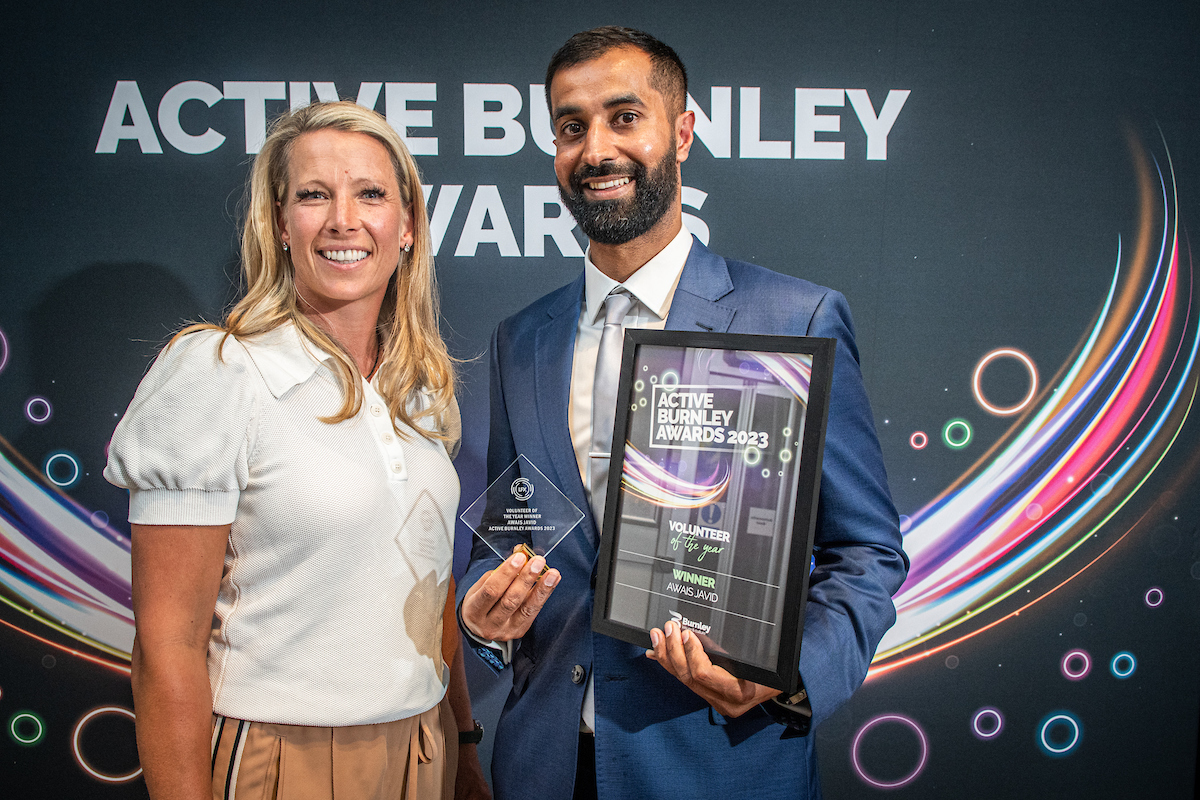 Awais – known as AJ – began as a teenage volunteer coach for the Burnley Sports Development Team. He has been committed to improving opportunities through sport for over 20 years most notably at Daneshouse FC, starting as a player, then a volunteer coach and now as club chair.
He has recently led on developing the canal side centre as a community venue and youth club, creating another safe space and more opportunities for young people. He does all this on top of a full-time teaching job and having his own family.
The judges said: "AJ is a true example of a young person being given opportunities and then using them to develop himself as a leader, constantly giving back to the community. He is a proper role model, respected by so many."
This is what he had to say about his award…
Young Achiever of the Year – Oliwia Kaczmarek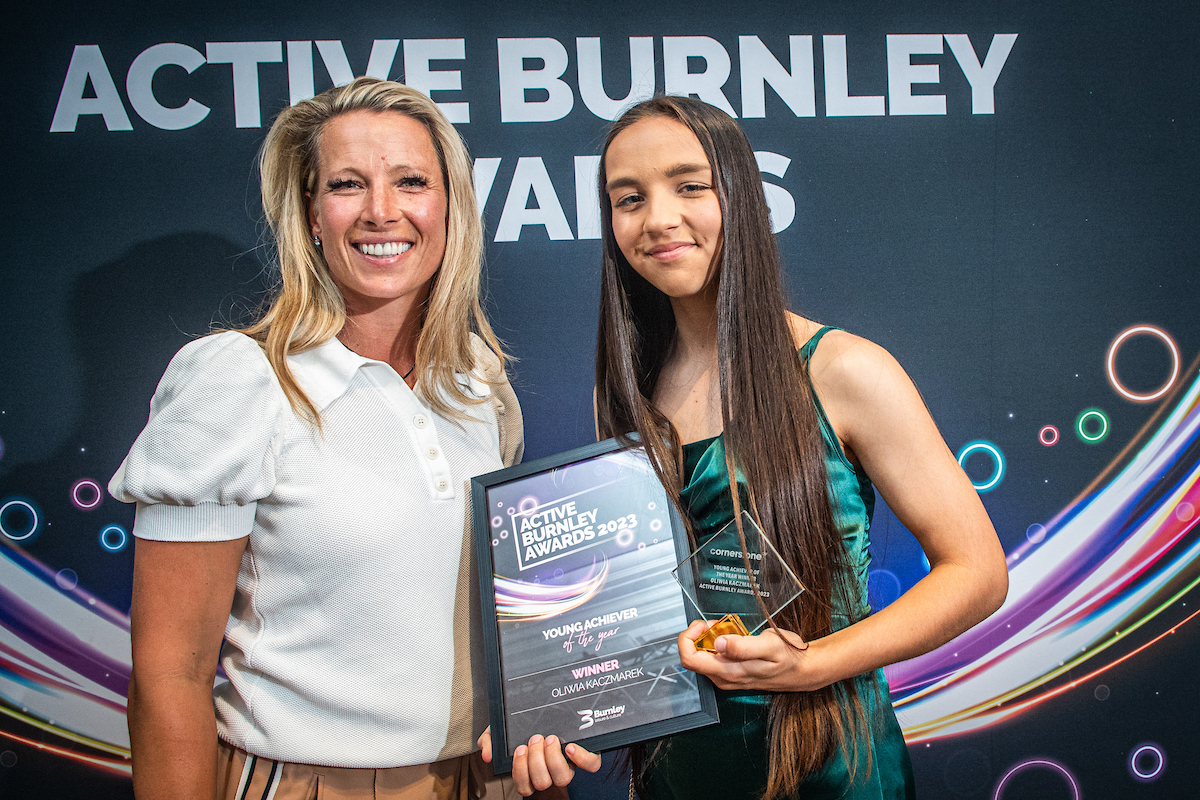 Oliwia has been at Dragons Kickboxing Club for the last eight years. She trains four times a week and now, at the age of 16, competes at the sport's highest level and has more than 100 fights to her name.
She is the current British WKO -55kg full contact kickboxing champion as well as WKA, ISKA, AFSO, and WFMC champion in her weight division. During an unbeaten 2022, Oliwia won English, British, European, and World open tournaments.
Oliwia is due to undertake her black belt this year and will be attending some of the biggest martial arts tournaments of 2023, with great results expected.
Oliwia's success was the second of three for Dragons Kickboxing Club on the night. This was her reaction to winning…
Rising Star – Ritchie Riley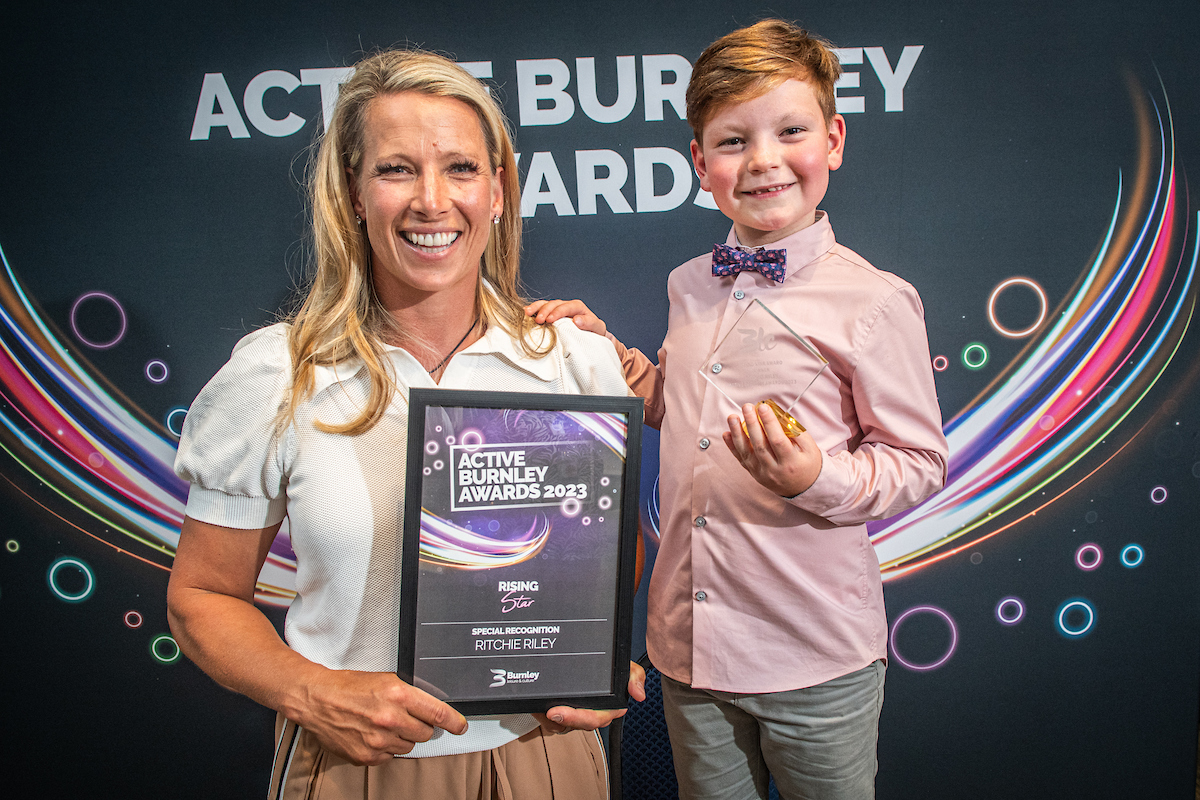 Richie is a talented seven-year-old golfer already competing at international level, having recently taken part in the World Junior Golf Championships in Portugal where he came joint 5th.
Ritchie is enjoying a superb 2023 – he is the current leader of the Robert Rock junior tour order of merit; he's won all four of the first four junior majors of the year, including the British Masters Champion, held at the Belfry, along with qualifying for World Junior Golf Championship again for February 2024.
He has also raised over £3,000 for Pendleside Hospice at various events over the past 12 months.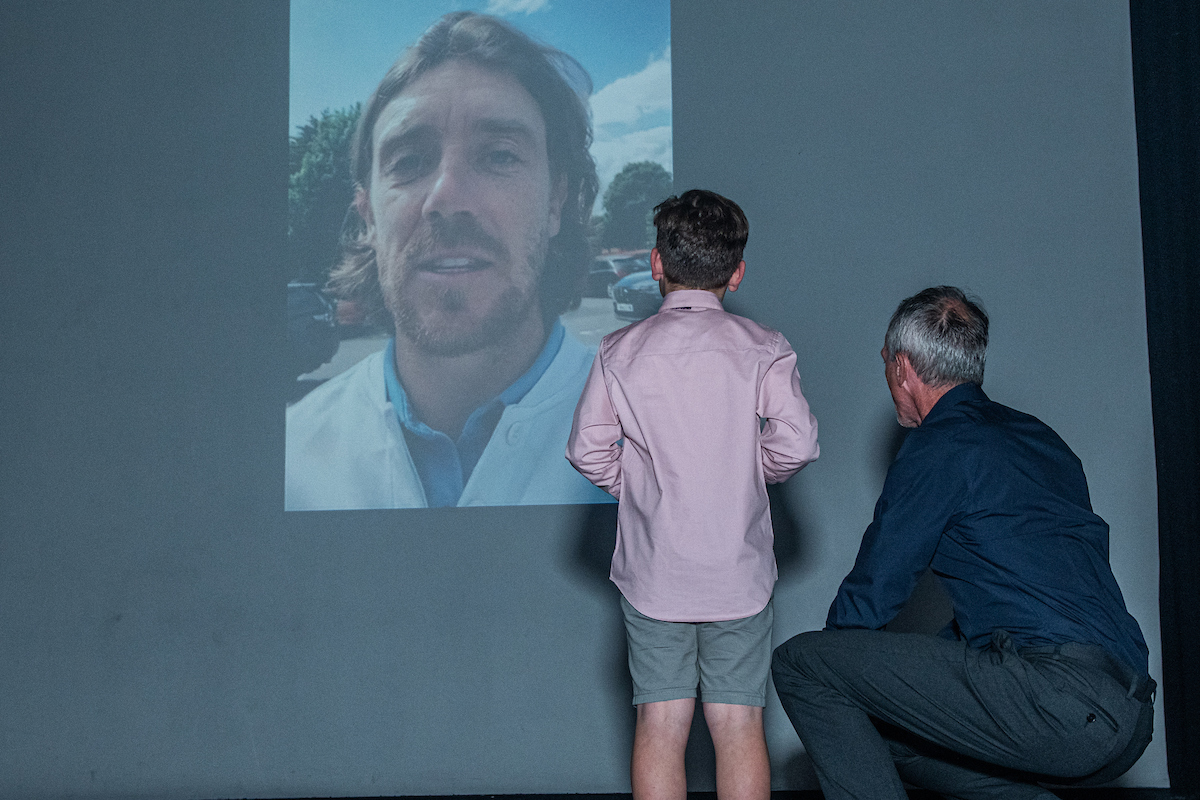 Before receiving his award, we had a surprise in store for Ritchie with a good luck video message from top golfer Tommy Fleetwood. With dad Kev's blessings, we caught up with Ritchie afterwards…
Coach/Instructor of the Year – Steven Wong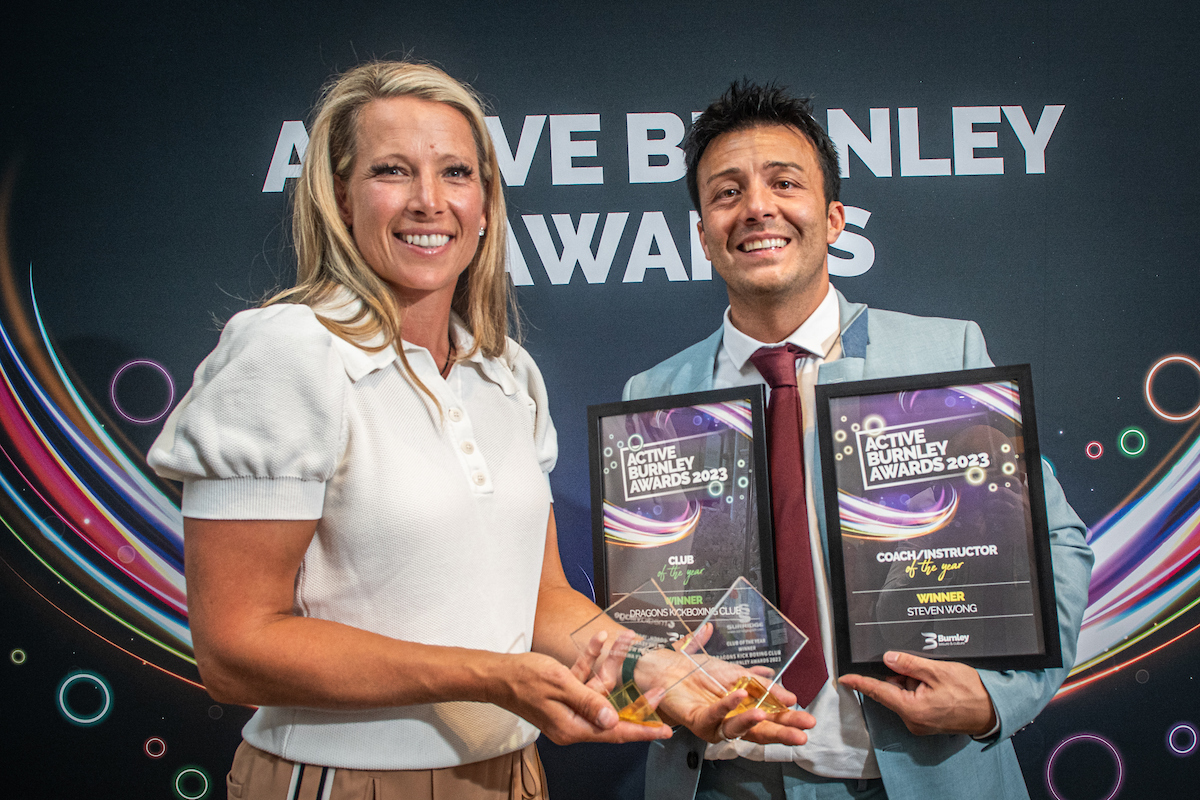 Dragons Kickboxing Club founder, Steven has been teaching martial arts for 21 years.
Although he has a young family, Steven's dedication and devotion to his students is truly second to none. His typical day includes teaching three group lessons at one hour each, plus four 1-1 lessons at an hour each. His students have achieved English, British, European, Five Nations and World Championship titles.
He has secured funding from local business, Depher, to support young people who cannot afford to pay for classes – with a year's worth of free sessions being offered to these families. Steven also works in partnership with Active Lancashire, delivering sessions for their target groups, in particular people with substance misuse and complex needs.
Steven was blown away by his second award of the night, and after a moment to collect himself, this is what he had to say…
Individual Contribution to Active Communities – Noor Miah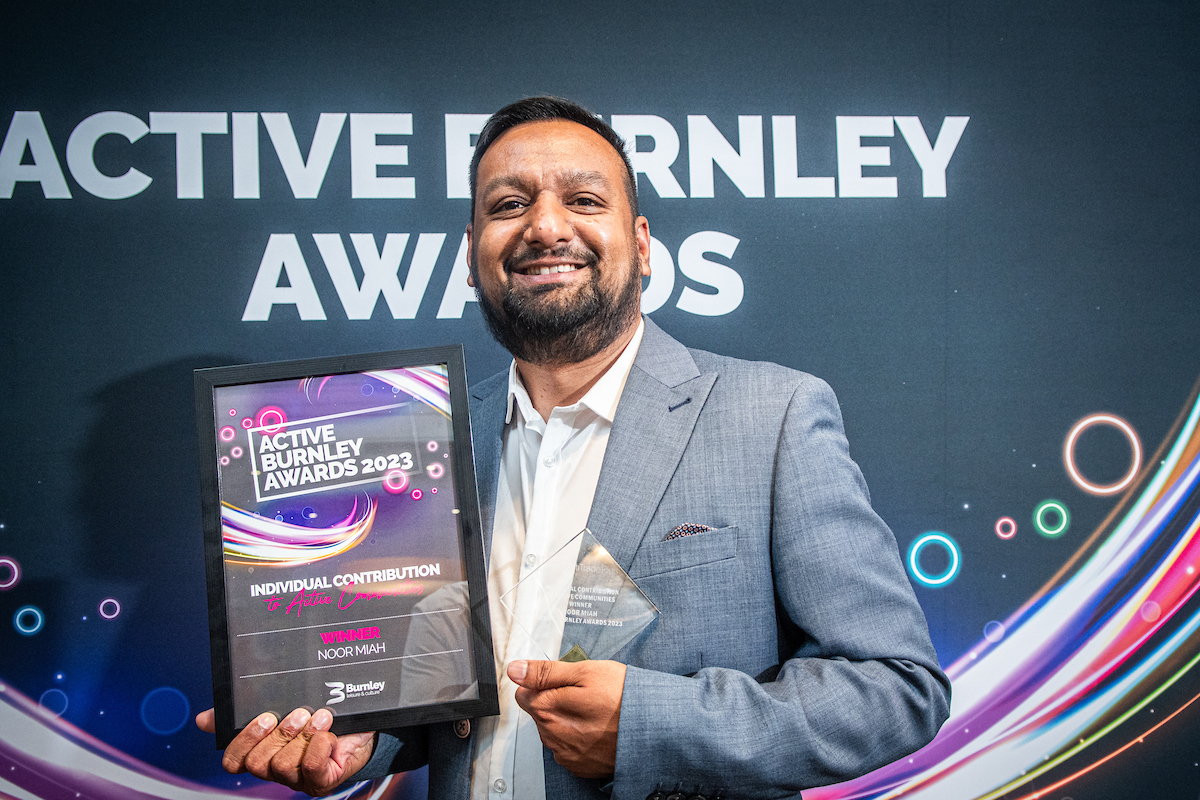 Noor is a volunteer at Shah Jalal Mosque in Burnley and started the Stoneyholme community project, which aims to get people connecting and socially interacting to increase their overall wellbeing, for which he was named Volunteer of the Year at the National Beacon Mosque Awards.
He works full time but uses his spare time to run different activities and initiatives including careers fairs, regular sports sessions in partnership with Burnley FC in the Community, and other partner organisations. Weekly sports sessions take place at Stoneyholme Primary School and at the community hall, introducing young people to sports and youth activities.
The Shah Jalal Mosque is also working with Burnley Council to develop a community garden onsite, to encourage outdoor activity through gardening, whilst also connecting to nature, looking at food sustainability, healthy eating, and improving both physical, mental health and wellbeing.
Noor shared his reaction with us after receiving his award…
Contribution to Active Communities – Ejaz Hussain, Burnley Cricket League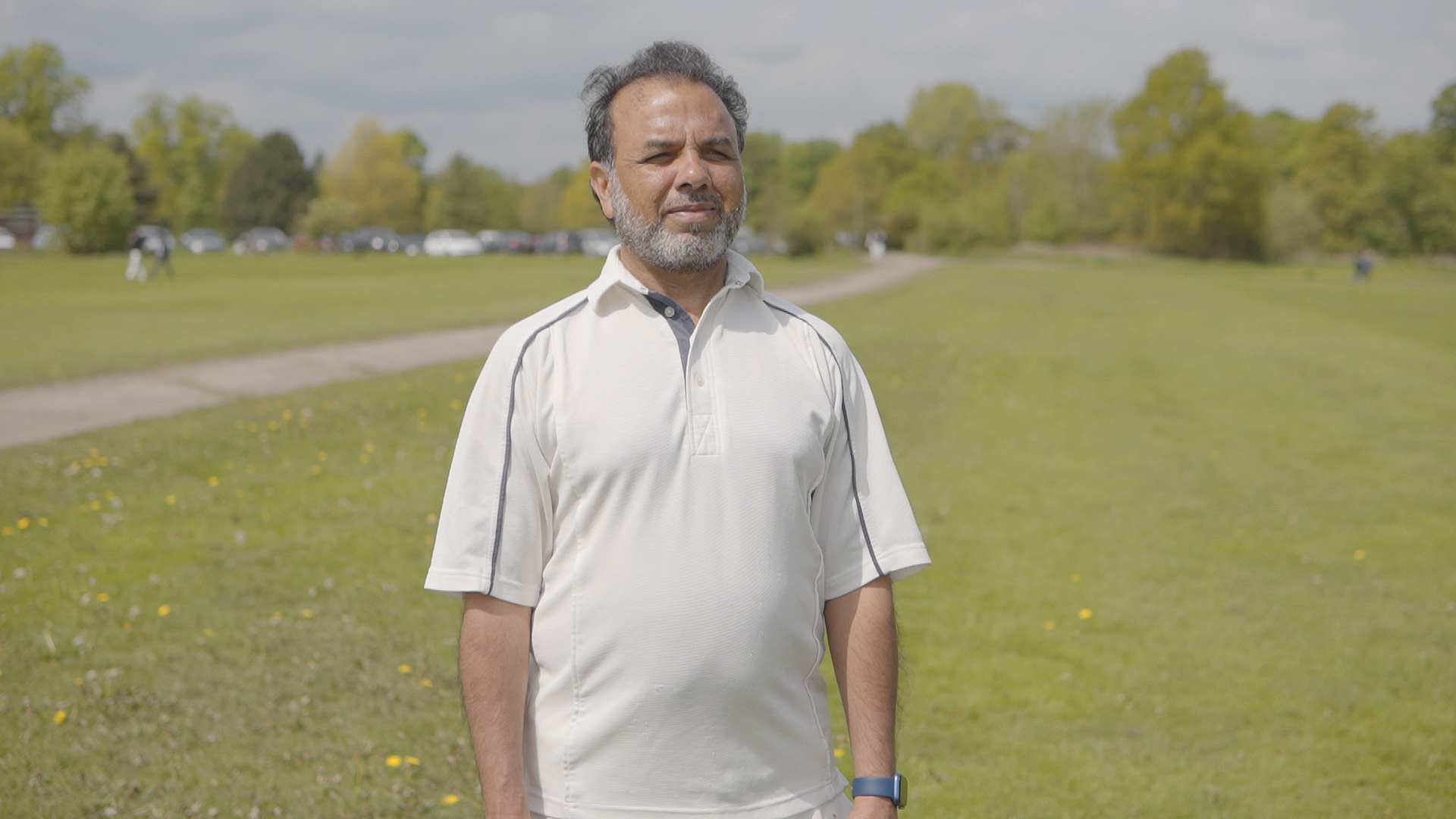 Ejaz is responsible for the resurgence of cricket at Towneley Park, once a hotbed of the game until 2015 when its demise came about through a combination of factors.
Following the pandemic, Ejaz and a number of other cricket enthusiasts decided they would bring cricket back to Towneley to promote physical activity, improve mental health, and promote the sport.
Without any funding or support and working in partnership with the local authority and community leaders, they encouraged teams to enter the league and in its first season back, four teams competed in a cup and league competition. The aim now is to add more teams as time goes by.
As well as benefitting those playing, the return of cricket to Towneley has brought a little extra to the park, with passers-by regularly stopping to watch the games.
Ejaz couldn't be with us on the night, so the award was collected by fellow cricketer, Kamran Prizada, who had this to say…
Health and Wellbeing Award – Bea Foster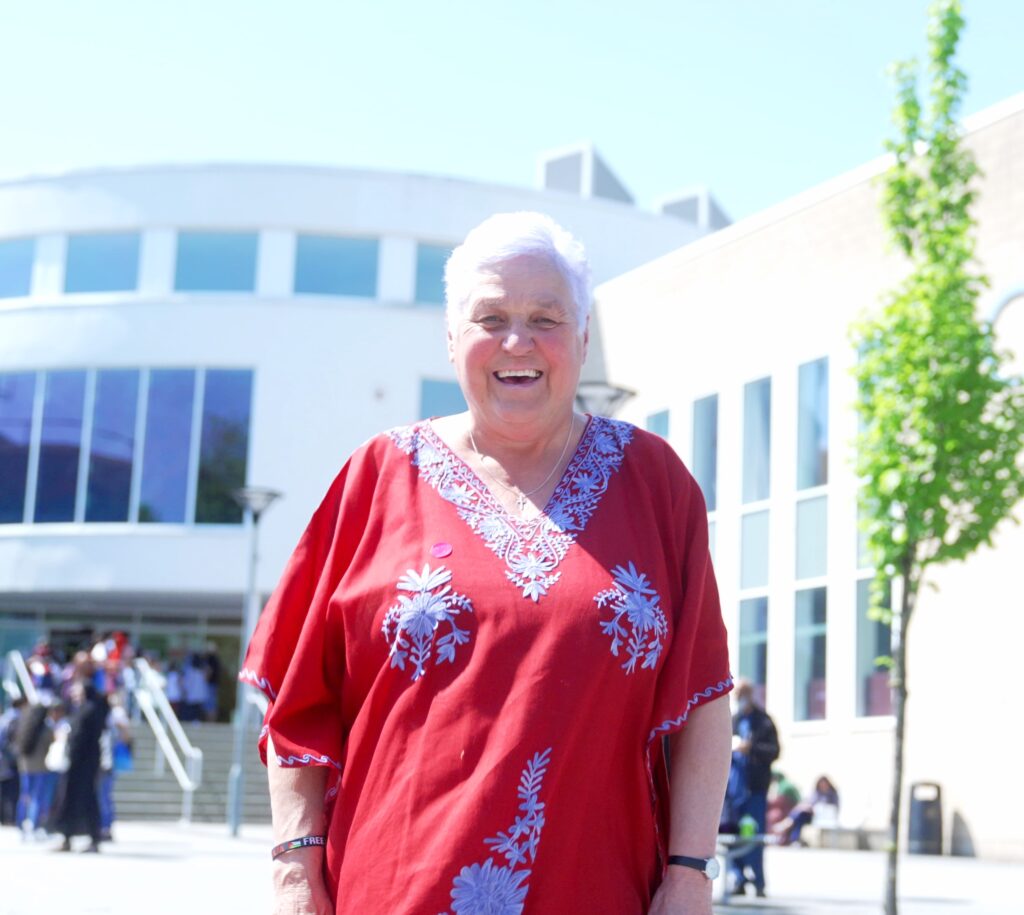 Bea has been an outstanding youth worker in Burnley for more than 40 years, initially through her role with Lancashire County Council's Youth Service before retirement.
She has continued to be just as active in retirement through the third and faith sectors in which she worked with distinction alongside her mainstream career – a dedication resulting in countless young people becoming active in various forms of public service.
She has helped young people from diverse backgrounds to participate in a wide variety of sports and cultural activities.
Bea played a leading role in developing a multi-faith and multi-cultural response to the disturbances of 2001 and has continued this important work through Building Bridges in Burnley. She has also been a key player in securing the future of West End Community Centre and has served as a local councillor following her retirement.
Bea was another recipient who couldn't be with us on the night, the award being collected by friend and colleague, Annette Bailey, who had this message on Bea's behalf…
Burnley Together Partnership Award – Burnley Linked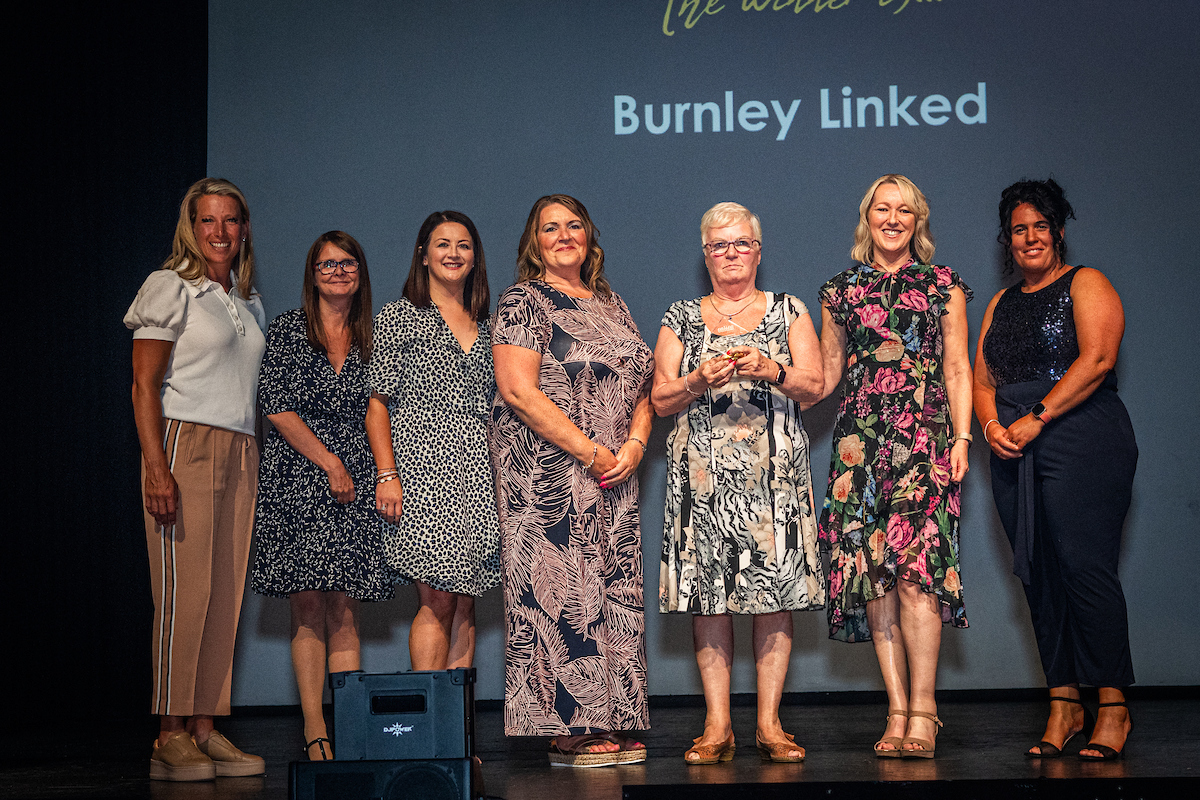 This award is given to a project showcasing true collaboration to achieve its aims and objectives.
Burnley Linked is a partnership for connecting and sharing that focuses on voluntary, community, faith, and social enterprise groups and charity organisations in and around Burnley. The group regularly feeds back into the Burnley Together Health and Wellbeing Partnership.
The Burnley Linked network meets on the last Thursday of every month at 10am, with the meeting taking place online, making it accessible to more partners and members.
The partner list is extensive, and members include BPRCVS, PCN East, PCN West, Burnley Borough Council, Burnley Leisure and Culture, Calico, Participation works, UCLan, Brighter Lives, Building Bridges Burnley, BFCitC, Carers Link, Cherry Fold Primary School, and Gannow Community Centre, to name a few.
Here's Joanna Hays from Cherry Fold Primary, who collected the award along with Lauren Helm, Louise Howorth, Lorna Powell, and Angela Bennett, explaining what the award means to everyone involved…
Primary School of the Year – Cherry Fold Community Primary School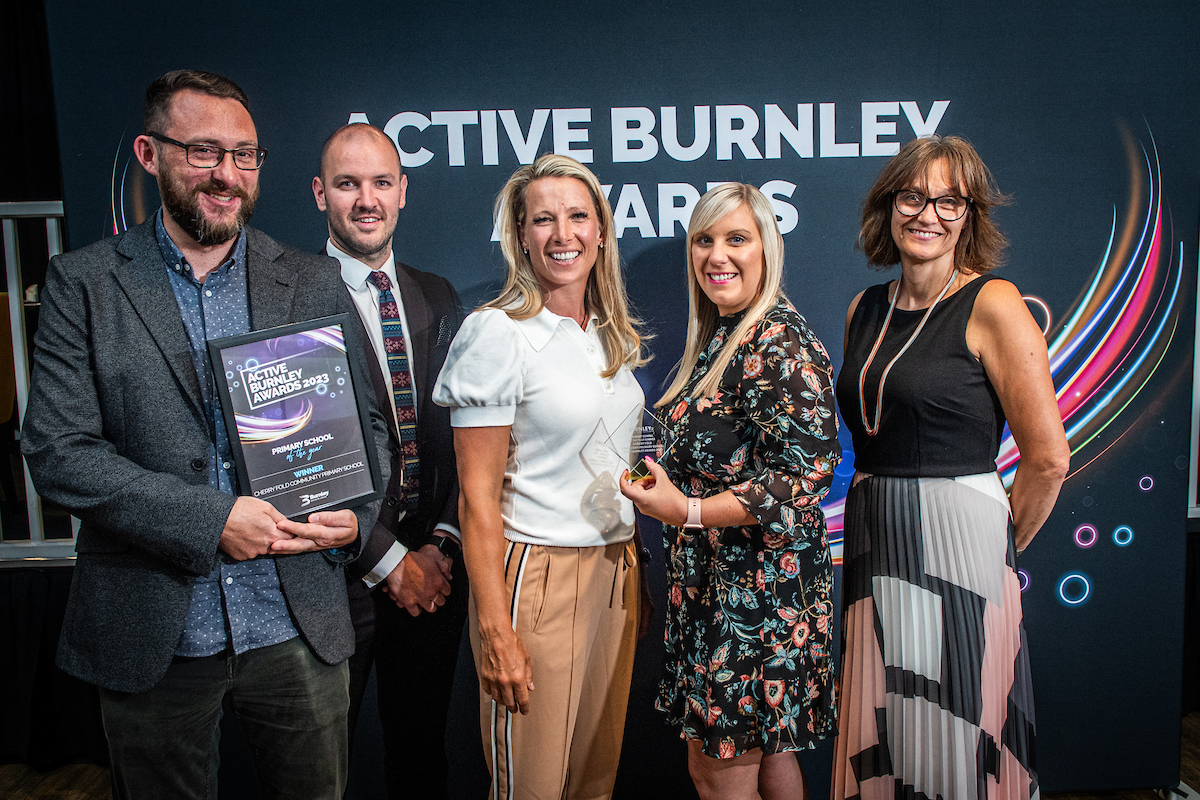 This award is given to the primary school that has gone above and beyond to support its pupils' physical and mental wellbeing.
Cherry Fold Community Primary School has been awarded the Platinum Schools Games Mark accreditation, progressing from the Bronze Award it acquired in 2015 – a huge achievement for a school in a highly deprived area of the town.
As part of a drive to deliver the 30 active minutes a day, the school has implemented a Daily Mile and through this pupils have travelled all over the virtual world and linked it to the wider curriculum.
The school supports Sports Leaders, where the older children deliver structured activities on the playgrounds at break and lunchtimes for Early Years Foundation Studies (EYFS), Key Stage 1, and Key Stage 2. Alongside this, staff run a daily sporting event on the Key Stage 2 yard at break/lunch open to all children.
After-school swimming lessons are offered to pupils to develop water confidence. Expert coaches are invited in to deliver specialist sessions such as golf, rugby, dance, bike safety, and fundamentals skills.
The award was collected by Headteacher Chloe Moretta, Sports Coach Leo Caldecott, Mark Greierson, PE Lead, and Helen Smith, Deputy Head. This is what Chloe and her team had to say when we caught up with them afterwards…
Active Workplace of the Year Award: Birchall Foodservice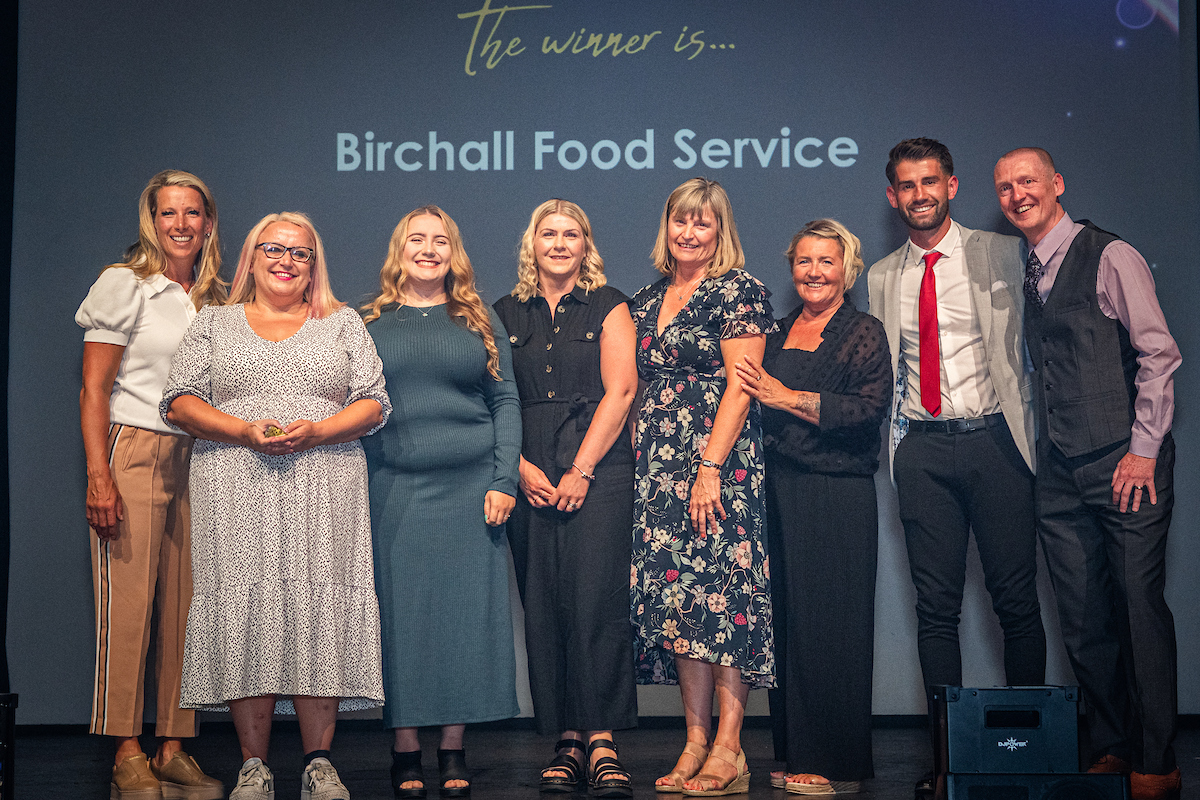 This award is for local businesses that have gone above and beyond to support employees' physical health and wellbeing – both of which Birchall Foodservice see as being integral to employee development.
To help their staff lead healthier lifestyles, they provide fresh fruit bowls, free fitness classes, standing desks, and reduced cost gym memberships for all employees. They also have a fully qualified counsellor regularly visiting the site to offer free counselling to any employee who needs it and have employed a full time in-house chef to prepare daily fresh meals, all subsidised by the company.
Employees can enjoy nutritious meals for as little as £1, have fresh salads prepared for them daily for £1.50 and the chef cooks weekly specials, combining healthier diets and saving staff money.
Birchall's community support is prodigious too. For the past three years, they have been the headline sponsor of Towneley Golf Course, enabling their employees to enjoy complimentary golf on the course and at the Prairie Sports Village driving range.  They are also the main sponsor of Lowerhouse Cricket Club and other sponsorships include a player at a local rugby club and an under-15s football team.
All of this is underpinned by an in-house charity, Helping Hands, providing financial and other support for employees and their families.
HR Krissy Freemont, HR Manager, was joined by Michelle Stinton, Nicole Tattersall, Sue Corless  and Endrit Shehu to collect the award. Here Krissy tells us what it feels like to be winners and explains more about the firm's caring ethos…