Healthy Weight Programme
Let our health and fitness experts take you on a FREE 12-week weight loss journey
Our fully qualified experts will help and encourage you to lose weight by being more active as well as provide practical nutritional advice. We'll help you to understand how losing weight can not only benefit your physical health, but also improve your mental wellbeing by boosting your self-confidence and self-esteem.
This chance to create a healthier, happier you is open to anyone over the age 18 in the borough with a body mass index (BMI) of more than 30. (BMI is a measure that uses your height and weight to work out if your weight is healthy. Falling into the overweight category can increase risk health problems such as strokes, type 2 diabetes, heart disease and cancer.)
And as an added incentive, signing up allows access to a selection of BLC's leisure activities for just £30!
The choice is yours
There are options you can choose from depending on the type of support you want. Most popular is our 12-week healthy weight course, including weight workshops, weigh-in sessions and physical activity.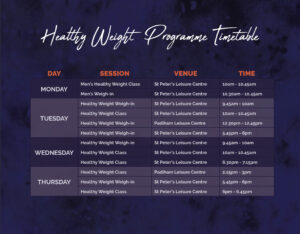 Why it works 
Click below to read case studies on some of our previous weight programme participants.
Margaret
Programme: Exercise Referral
Start date:  (pre-covid)
Age: 60
Pathway:  Self Referral
Reason for Joining the Programme
Margaret had a stroke and was also being treated for diabetes, high blood pressure, high cholesterol, and depression.   She is 5ft 3" and 8st 7lb and Margaret's BMI was 44.6.  Upon asking Margaret about her general health, on a scale of 1-10 (1 being very poor and 10 being very well), Margaret rated herself at 2.  At week 1 of the 12 weeks programme, Margaret was not feeling very optimistic about the future and rarely felt very useful or relaxed and had very little energy.  She had not been feeling good about herself, had very little confidence and felt quite unhappy.  Margaret had not exercised for a long time, well before the March 2020.   She wanted to become healthier and fitter as she had a new grandchild coming.  she also wanted to reduce her blood glucose levels and she knows exercise is a good way to do this.
Benefits of attending the Programme 
Margaret has lost 4 stone in total since the end of June 2021, weighing 18st 7lb when she started and now weighing 14st 7lb which has given her much more confidence.  Margaret is happy that her diabetes glucose levels went from 59 to a safe and healthy 38 which is in the normal range.   Margaret is now buying new fitted clothes rather than the baggy "hide away" clothes she used to wear.  She likes the fact people are noticing the changes in her.  Margaret can now bend down and fasten her shoes whereas before she started on the programme, she would buy slip on shoes.   Since Margaret now has more confidence, she has joined a drama group, she sings in a band, she plays drums and is shortly going to start boxing.  Margaret also says that she can now walk more, and her balance is better.  Margaret now feels optimistic about the future, feels better about herself and has more energy.
Classes Attended
Margaret attended the swimming sessions at least 3 times a week and also the Feel Good Factory during the 12 weeks at the Up and Active programme.  Margaret then went on to the 3 month membership at £30 and has now enrolled on a monthly direct debit swimming membership.   Margaret attends the sessions as much as she can, but at least 3 times a week.
Impact on family  
Margaret says her family have benefitted from her success as she is now going to be a healthier grandma and she can help more.
Quote from Margaret
"I would highly recommend Up and Active as a great step forward to committing to a healthier lifestyle."
"I love my swimming.  It's my peace of mind, my happy place."
Adele
Programme: Weight Management
Start date:  16/09/21
Age: 56
Pathway: Referred by GP
Weight loss:
Start weight: 105.2kg
12-week Completion weight: 99.6kg
Total weight loss: 5.60kg WL: 5.32%
BMI start: 32.47
BMI at week 12: 30.74
Reason for Joining the Programme
Adele was referred by her GP onto the Up and Active Weight Management Programme.  Adele says that the last time she exercised was at least 6 months before she started the programme.  Adele accessed the Healthy Weight Class on a weekly basis which included a weekly weigh-in and workshop to assist her in achieving her goals.  Adele also enjoyed weekly exercise classes such as Circuit Training and the Feel Good Factory.
Benefits of attending the Programme 
Adele now has a more positive attitude and likes to plan her exercise and plan her meals to fit into her daily life.   She feels much more in control and has belief in herself.  Adele also feels much more confident.  Adele's family have also benefitted from her exercise and weight loss programme since they now see Adele as a happier and more confident person.
Weight loss
Adele has had a steady weight loss over the 12 weeks programme.   Adele weighed in at 105.2kg at the start of the programme and by week 12 Adele weighed 99.6kg which is a weight loss of 5.60kg (5.32% weight loss of her original body weight).  Adele's BMI has also changed from 32.47 at the start of the programme to 30.74 by week 12.
Quote from Adele
"I would recommend it, because it works!"
Adam
Programme: Structured Weight Management
Start date: October 2020
Age: 36
Pathway: Referred by GP (Dr Savage)
Practice: Padiham Medical Centre
Start weight: 21st 9lbs
Total weight loss: 24lbs WL: 7.4%
BMI at start: 39.3
BMI at week 12: 36.4
12-week completion weight: 19st 13lbs
Reason for joining the programme
Adam was referred into the service for weight management and to get fitter, to also support management of his health conditions, asthma, and depression both of which controlled with medication.
Physical activity
Adam recalls leading a sedentary lifestyle other than lifting heavy loads as part of his job as a local delivery driver. His memory of weight issues has been ongoing most of his life, but he did previously get into running which is something he enjoyed and found it gave him the weight loss benefits he wanted. He maintained this for about 5 years before undergoing surgery on his foot, with all good intentions of returning to running after his recovery, he then started having knee problems preventing him getting back to his usual routine stopping him from running altogether, as a result regained the weight.  On starting his weight management programme Adam was encouraged to sign up to our reduced rate exercise package alongside his healthy eating workshops, he committed to and attended two gym sessions a week plus at least 2miles walk on most days of the week.
Benefits of attending the programme 
Adam totally embraced the programme, working alongside to fit around his working shifts and family commitments he admits to initially struggling to come straight after work but found once in a routine, coming out of his session he felt more energised and motivated.
Adam stated attending the programme had sparked his motivation to get back on track, knowing he could attend a weigh in each week helped to keep him motivated. Adam acknowledges that he has also learnt about healthy eating and nutrition, and how to lose and maintain weight loss long-term.
Adam is more confident in himself, he has much more energy, his mood and concentration levels have significantly improved. Adam has recently requested to lower his antidepressant medication and intends to keep working towards using his lifestyle changes to promote better wellbeing. Adam is aiming to keep strengthening his knee with a view to be able to run again. Previously his body confidence has prevented him from swimming, but this is one of his goals he is confidently working towards.
Biggest changes
Cut out takeaways and now buys and cooks from fresh whenever possible.
Reduced portion sizes significantly and cooks healthier by grilling instead of frying.
Reduced fizzy drinks that were high in caffeine.
Increased water and overall fluid intake.
Impact on family  
Adam's partner has also benefited from his positive changes as now eats much healthy as a family and when asked what the main benefit is that you have gained from the programme, Adam replied 'I have much more energy now to play with my two children aged 6 and 4 years old'.
Quote from Adam
"I feel I have more energy – less sluggish mentally feel much better – feel everything going in right direction set little goals – a little bit at a time – little steps, it feels like you are achieving more, and you can get there in 6 weeks. I could feel the difference – less bloated, more energy."
Donna
Programme: Weight Management and Exercise
Start date: 20/07/21
Age: 52
Pathway: Referred by GP
Weight loss
Start weight: 102.50kg
12-week Completion weight: 93kg
Total weight loss– 9.50kg WL: 9.27%
BMI start: 44.36
BMI at week 12: 40.25
Reason for joining the programme
Donna was referred onto the Up and Active Weight Management programme and Exercise programme by her GP and commenced on 20th July 2021.  Donna was pre-diabetic and had a slightly raised cholesterol level at that time.  (Donna had normal blood sugar levels by September 2021)??  Donna had not exercised for a year and felt like she was "dying" and knew she needed to lose weight and get fit.  Donna also wanted to stop bad habits.   Donna attended weekly weigh-ins and exercise classes together with her next door neighbour and friend who also joined the 12 week Weight Management and exercise programme.   Donna felt more accountable going with a friend.
Weight loss
Donna had a starting weight of 102.50kg.  She had a steady weight loss through the 12 week programme and at week 12, her weight was at 93kg, making a loss of 9.50kg (9.27%).  Her BMI at week 1 was 44.36 and upon completing the programme, her BMI had dropped to 40.25.
Benefits of attending the programme
Donna says she has definitely benefitted from the programme as she says she is no longer pre-diabetic, her cholesterol levels are back to normal and she has higher energy levels.  She also says she is no longer on any medication.  Before the programme, Donna could not get a pair of shoes to fit her unless she went to a specific shop.  She is now able to buy her shoes from any regular shoe shop.  Donna is happier now and she doesn't think about being low.  Her anxiety levels have also improved.
Physical activity levels
Donna is now able to walk to (step) without being out of breath and has recently started a cleaning job, which she couldn't have done before starting the programme.  She cleans and mops for 2.5 hours.  Donna can now run for a few minutes which she was unable to do before the programme.   Donna also now has a Leisure Membership card so she can access the exercise classes and leisure facilities at any time.  When exercising on the treadmill, her speed has increased from 1.5 to 6.5.  Donna is hoping to exercise 3 times a week and is aiming for a size 10 dress size.  Donna is listening to her body more, she is aware of making better food choices and knows that when she moves and exercises, she feels better.
Impact on family
There has been a big impact on family life as Donna's Mum is at end of life care and she is now able to better help her.
Quote from Donna
When asked about the Up and Active Programme, Donna says she would "definitely" recommend it "especially to anyone who was feeling like I was."
Submit your interest in the programme
Complete the form below to register your interest in the Healthy Weight Programme. Our team will then assess all your details and be in touch to let you know if you have received a place.
[contact-form-7 id="11718″ title="Weight Management Request Form"]
Send us
a Message
Filling out this form will help your message get to the right person. We aim to respond to all messages within 48 hours.